Dubravka Kutlešić testimonial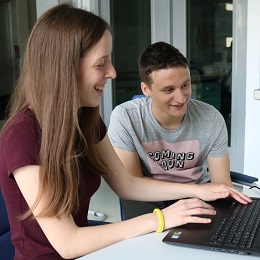 My name is Dubravka Kutlesic. I participated in the PSIML seminar in 2018.
I've heard of the seminar from my university professor, Mladen Nikolić, who is a lecturer at PSIML. A few of my friends went the year before and they told me about the fun time they had there and the many people they met.
The homework for the application was my first challenge. I haven't done similar tasks before, so it was really interesting. I had some knowledge of ML theory (from articles and books), but PSIML was my first practical coding experience. Starting lectures are basic and don't require any previous knowledge. Even if you are completely new in this area, this opportunity is a great starting point.
There is something magical about Petnica. The nature is stunning, food is nice and the buildings are cozy. You feel like you are in some cartoon where all people do some fun work in their labs behind their computers. The surroundings are great for any activities.
Those 10 days were challenging and required a lot of hard work. In the first few days you learn a lot. Also, you have workshops where you solidify your knowledge. They are very well thought-through. You don't code from scratch. In the beggining you just code simple functions, but then it becomes more complex. Lecturers encourage questions and discussion.
The last few days are reserved for projects which are done in pairs. I did mine with Filip and we really had a nice time chatting, coding, and cooperating. We chose a project that was proposed by people from MDCS, but you can propose any project you like. We had videos taken from a car and our task was to train the model to plot a 2D map of motion. We really liked the project because both of us find self-driving cars interesting as well as working on real-world problems. I'd say that we had quiet a nice results.
The organization of the seminar is excellent. But, the people there left the biggest impression on me. Whenever you have any type of question, all of them are ready to help and are open to chat with you about every idea you have. Their spirit encouraged me to apply for an internship in MDCS. I got in and am fortunate to continue to associate with such amazing people.
In Petnica, you meet expert engineers who apply machine learning in their everyday work. You have a unique chance to learn from them, collaborate, and share ideas. Participation in the program improved my skills, helped me connect with lecturers and participants and deepened my interest in ML. This experience was outstanding and I would strongly recommend to everyone that they apply. :)